The Winchester Youth Football Program is hosting a football camp this Thursday and Friday, July 29th and 30th, for all kids in grades K-6 at Falcon Field. The cost for the two days of camp is $10 and every camper will receive a t-shirt. You can register for the camp on our Facebook page "Winchester Youth Football Program" or we will take walk-up registrations on the first day of camp. Camp Times: Thursday & Friday Grades K-2: 5:15-6:30 (walk-up registration 4:45-5:10 July 29th) Grades 3-6: 6:30-8:30 (walk-up registration 6:00-6:25 July 29th)

The Winchester Youth Football Program is hosting a football camp this Thursday and Friday, June 29th and 30th, for all kids in grades K-6 at Falcon Field. The cost for the two days of camp is $10 and every camper will receive a t-shirt. You can register for the camp on our Facebook page "Winchester Youth Football Program" or we will take walk-up registrations on the first day of camp. Camp Times: Thursday & Friday Grades K-2: 5:15-6:30 (walk-up registration 4:45-5:10 June 29th) Grades 3-6: 6:30-8:30 (walk-up registration 6:00-6:25 June 29th)

It's food pantry day at Deerfield. We'll be handing out food from now until 4:00 or until the food runs out. Just drive up to the main entrance to pick up some free groceries for your family.

2021-2022 School Supply List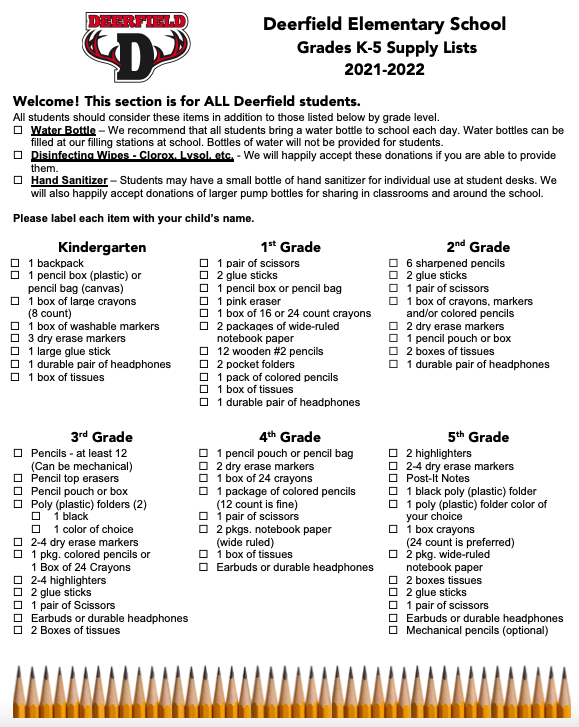 Click the link below to access the Randolph Central Schools Reopening Plan for 2021-2022. The School Board altered the plan substantially after the public comment session on June 29, 2021. This version of the plan (Draft 2) will be voted on by the School Board at the Tuesday, July 13th School Board meeting that is set to begin at 5:00 PM in the Winchester Community High School Library.
https://5il.co/v2rx

WCHS Cross Country is sponsoring a Winchester Cross Country Running Camp for incoming 3rd-8th graders, July 26-30 from 9 to 11 AM. For registration information click the link below.
https://5il.co/uog7

The Randolph Central School Corporation Board of School Trustees is inviting all interested stakeholders to attend a Special Session of the Board on Tuesday, June 29, 2021 at 6:00 PM. The Board is seeking public comment on the Reopening Plan for the 2021-2022 school year. The meeting will be held at the WCHS Fieldhouse. Please enter through the single door on the west side of the building. Click the link below to review a draft of the Reopening Plan. Thank you!
https://5il.co/ia0v

Please click the link below for Randolph Central daily schedule information for the 2021-2022 school year. We want to provide this information early so families can plan. The ISHD has indicated they will provide more flexibility to schools in their response to the pandemic for the next school year. More information coming soon.
https://5il.co/u0na

We had a fantastic last day of school at Deerfield. Parents, please know we did send final report cards home with students today. We also sent preliminary ILEARN reports and information about a rescore process in those envelopes with students in grades 3-5. If your child was not at school today or left early, we have those items in the office for your child. You can give us a call if you want to pick them up, or we can put them in the mail. Have a great summer!

It's Deerfield Food Pantry day! Our free Deerfield pantry will run today starting after dismissal at 2: 30 and continuing until 4:00 or when the food runs out. Just drive up to the main entrance to load up on some free groceries. Our pantry is open to any families with students enrolled at Deerfield.

WINCHESTER LADY FALCON VOLLEYBALL CAMP June 14th, 15th, and 16th Incoming 1st - 5th Grade: 9:00 - 10:30 am Incoming 6th - 8th Grade: 10:30 - 12:00 noon Middle School Gymnasium The Lady Falcon Volleyball Camp is designed for any girl that would like to learn to play volleyball or would like to continue to improve her skills. We emphasize individual skill development but will also organize teams for various competitions. I am confident that our campers will not only improve their volleyball skills and knowledge, but they will also have a lot of FUN! We look forward to having a great camp; one in which your daughter will want to come back year after year. Coach Matt Curts - Varsity Volleyball Coach LINK TO REGISTER:
https://docs.google.com/document/d/1dr5u5DmyqJvGyPQUsbnCuTDItK_wNevyBvVGqowqPmA/edit?usp=sharing

Reminder: All incoming 6th graders interested in signing up for band, should plan to attend the band sign up night tonight, May 19th from 5-8pm. This is an open house style meeting to decide what instrument they will play for the upcoming year. Parents will have the opportunity meet the directors and speak with a representative from Paige's Music about instrument rentals.

Take a look at the flyer pictured below for information about the Girl Scout Kindergarten Buddies program. This is the last week of registration for the upcoming summer program.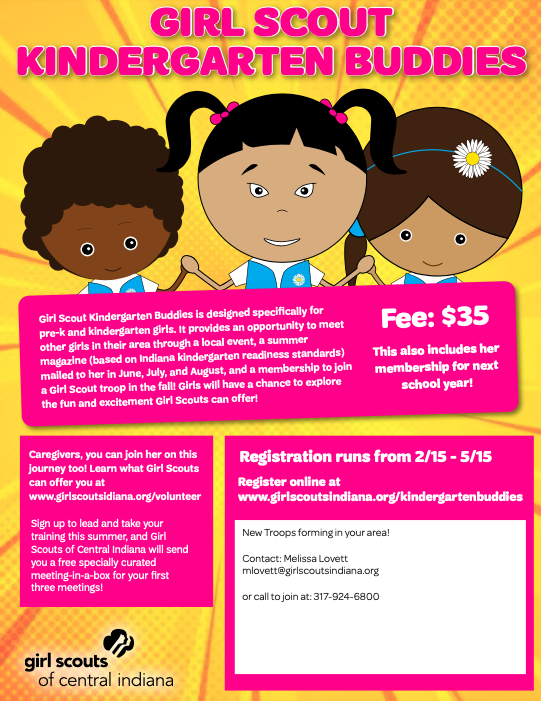 Ridgeville Little League will be having a Fundamentals Day on Saturday, May 1st, from 10:00 a.m. to 11:30 a.m. This event is FREE and open to the public. Fundamentals practice will include hitting, pitching, and fielding. Immediately following the fundamentals clinic, there will be a Fun Day including games, prizes, and a bounce house. This event is also open to the public. A cornhole tournament will start at 3:00 p.m. There is a $20 entrance fee for each team. Hot dogs, chips, and pop will be available for $3.00. Registration for baseball will also be available during this time.

A Reminder for Deerfield Families... Our April drive-up grocery give away is happening after school today! Just pull up to the main entrance to load up with some free groceries from our Second Harvest Food Pantry. We'll be here until 4:30 or until the food runs out.

Deerfield Families, We plan to have some fun this coming week celebrating Early College Week with all the other Randolph Central Schools. It's never too early to start talking about how school helps students be prepared for college and future careers! We will have dress up days on Monday, Wednesday and Friday. Monday: "Dress for Success" (Dress for success in school or your future career.) Wednesday: "Future So Bright...Gotta Wear Shades" (Wear sunglasses...take off during testing.) Friday: "College Spirit Day" (Wear your favorite college shirt and/or hat.)

GRIC Preschool at Randolph Central will be doing screenings for the 2021-2022 school year. Share with anyone you think would be interested! You will be contacted to schedule a screen time. (Additional screenings will be scheduled as needed.) Questions? Call 765-584-7602, ext. 3 Baker Preschool Screenings - May 4 and May 6 Deerfield Preschool Screening - May 5
https://forms.gle/53ETqJsNGXfaBPZg9

Good Afternoon! This is a reminder for parents of Deerfield students in grades 3-5. Our students begin ILEARN testing tomorrow at Deerfield. They are well prepared. You can help by encouraging them to give their best effort. Also, all students need to get plenty of sleep and bring CHARGED Chromebooks to school each day. Thank you for your help!

Good Evening! The Ridgeville Little League is having baseball sign-ups at the Ridgeville Lions Club on the following dates: April 10th from 10:00 - 1:00, April 11th from 1:00 - 4:00, April 24th from 10:00 - 1:00, and April 25th from 1:00 - 4:00. Thank you!

Our Book Fair is now open!! This is a great way to purchase some books and support our school (25% back in rewards). From now to April 18 you can shop using the link below. This is Deerfield Elementary's very own online store!
https://rb.gy/mgcra7